A food processor is a must-have appliance if you live a hectic lifestyle but still enjoy cooking. A versatile cooking appliance that can quickly chop, dice, and shred ingredients. A good food processor can cut down on preparation time by up to 30 minutes. There are many food processors on the market, so which one is the best? This Best of Home series features the 10 Best Food Processors In Malaysia. We provide quality recommendations that will suit your lifestyle and budget.
Best 11 Food Processor
11. MILUX All In-One Food Processor MFP-33222
You only need one MILUX All-In-One Food Processor MFP-33222 because it has so many functions and attachments. You can whip cream or egg whites with the double whisk attachment, while 4 stainless steel discs allow you to slice, shred and julienne.
You can adjust the speed of your mixer to make it faster or slower. You can also use the pulsing mode to mix the ingredients evenly. Non-slip feet are also available on the MILUX All-In-One Food Processor MFP-33222 so they can be placed securely on the tabletop, even at the highest speed setting.
Features:-
Stepless speed dial to ultimate control
A wide range of attachments and discs
Non-slip feet
10. Kenwood FGP200WG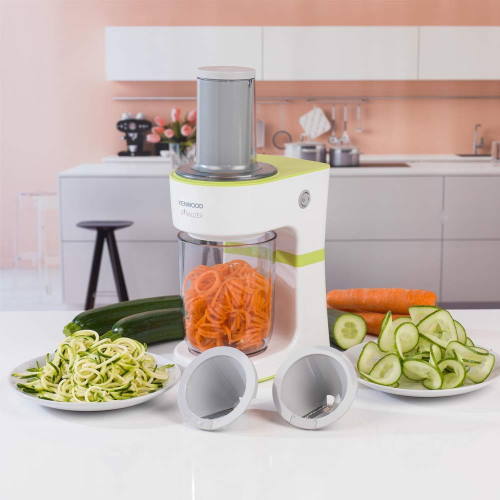 The Kenwood FGP200WG vegetable cutter and spiralizer have a capacity of 0.5L. Two types of cones are available: Linguine and Pappardelle. Both have stainless steel blades and can be used to cut most fruits and vegetables into thin spiralizing pieces.
The parts can also be washed in the dishwasher, making cleaning much easier. The Kenwood spiralizer is an essential tool for anyone who wants to increase vegetable intake and eat a healthier diet.
Features:-
Vegetable cutter and spiralizer
Easy to wash
Easy to use
Small size at 0.5L
9. Khind Food Processor FPC500
You can use the Khind Food Processor FPC500 with four different metal discs to grate and strip and chop, as well as make a variety of food items, including Rosti and large batches of onion rings.
You can whip up countless recipes using the 2-speed settings, pulsing mode, and different attachments. All accessories work with the dishwasher. The compact Khind Food Processor Chopper FPC500 can be easily stored and assembled quickly.
Features:-
Great functionality for food preparation
Easy to use
Easy to wash
Compact design for easy storage
8. Kenwood Food Processor FP120
The Kenwood FP120 mini food processor is a good option for those who need a small amount of processing power in their kitchen. The motor is 400W and the 800ml capacity allows for various attachments such as chopping, grating, or whisking. It is made of non-degradable stainless and will not rust or become blunt. This makes it a long-lasting investment.
The safety interlock on the Kenwood series is added to your protection. The motor won't work unless the bowl and lid have been properly secured. You have the option to choose from one speed or pulse action depending on your preference and the speed at which you want it to blend.
Features:-
Safety interlock
Mini food processor with 800ml capacity
Multiple attachments
Non-degradable stainless steel blade
---
7. Philips Viva Collection HR7350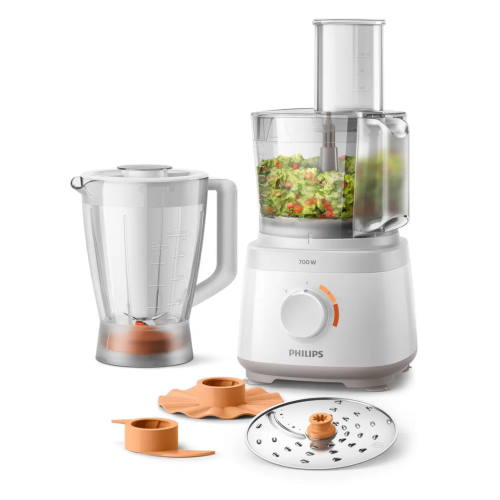 The Philips VivaHR7350 food processor is an 850W model with a mixing bowl, 1.5L capacity, and an 850W motor. The PowerChop technology is its best feature. It combines a special blade shape, cutting angle, and inner bowl to produce a superior chopping result. You can process large quantities of ingredients quickly thanks to the large bowl and powerful motor. It is an all-in-one machine that can perform more than 31 functions, including kneading or whisking, grinding, juicing, and many other tasks. You can also use the reversible stainless steel discs to shred or slice depending on which side of the machine you are using.
This makes it easy to prepare food by allowing you to use a large feeding tube. Both accessories and speed options can be matched easily so that you get the perfect result every time.
Features:-
1.5L capacity
Large Feeding Tube
PowerChop technology
31 functions
Reversible discs for shredding and slicing
---
6. Giselle Food Processor KEA0221WH
Among Malaysia's most loved food processors. This Giselle KEA0221WHIt features a 500W motor with 9 interchangeable accessories. This allows for versatility and ease of use. It includes a chopper and dough blade, as well as a citrus juicer, lemon juicer, whisks, and whisk. This machine can be used to mix ingredients, cut them, mincemeat, make orange juice, and whip eggs with one operation.
It has two-speed settings and pulse action. This is sufficient for different textures. The motor won't start unless all parts are attached correctly.
Features:-
Multiple accessories
3 slicing blade
2-speed settings and pulse action
Safety lock
---
5. KitchenAid Food Chopper 5KFC3516BWH
KitchenAid Food Chopper 5KFC3516BWH is easy to use. To set it up, simply place the bowl on the base and twist to secure it. It's very easy to use. Even though the KitchenAid food processor has a simplified design, it still features two speeds and a pulse mode. This allows you to control how fine or coarse your mixture is. The KitchenAid Food Chopper5KFC3516BWH makes it easy to make large batches of sauces and mince garlic or onions.
Features:-
Great mobility with a compact design
Two-speed settings and a pulse mode
Simple to use
Easy to clean
---
4. Hamilton Beach Stack & Snap Big Mouth Food Processor
The Hamilton Beach 70720SAU food processor is high-performance and made in the USA. You can make large batches of meals quickly and easily with 10 cups of cooking capacity. The unique design allows for easy assembly using a snap and stack mechanism.
You can also use the reversible shredding and slicing disc and S-blade to process your food in many different ways. It's easy to clean the bowl, blades, and lid in the dishwasher. The cord storage also helps reduce clutter in your kitchen.
Features:-
Large capacity with a feeding tube
Reversible slicing and shredding disc
S-blade
Built-in cord storage
---
3. Panasonic Food Processor MK-F800
The Panasonic MK800 smart food processor is one of the best in Malaysia. It features five pre-programmed Auto Menus that each produce consistent results. These modes include Chop, Mince, and Frozen as well as Paste, Drainer, and Paste. You can spin vegetables in the drainer mode to make delicious and crisp salads.
This food processor has 13 different accessories that can be used for a variety of functions. These include making fresh juice, bread dough, and many other things. You will find a knife blade that can be used for sharp processing, as well as a salad drainer, shredding, slicing, julienne, and whipping blade. These blades are extremely sharp and can be used to cut ingredients evenly, which makes it quick and easy to prepare time-consuming dishes.
Features:-
5 auto menu programs
13 additional accessories for 33 different functions
Professional-level cutting with ultra-sharp blades
Durable and dishwasher-safe Tritan jug
Suction pad base
Safety start
---
2. Kenwood Food Processor FDP301SI
The Kenwood FDP301SI Food Processor comes with an 800W motor. This allows it to process even the most difficult vegetables with great speed! You can make bread dough, or squeeze orange juice from fresh oranges with a variety of attachments. This food processor can even grind coffee to the finest quality.
The Kenwood FDP301SI food processor includes both a processing bowl and a blender. They fit together so you don't have to buy two motors. Only the Kenwood FDP301SI food processor is needed in your kitchen.
Features:-
Streamlines food preparation with flexibility
Easy to store
Time-saving
---
1. Philips Compact Food Processor HR7320
Although the Philips Daily Collection Compact Food Processor is smaller than most, it still packs a punch when it comes to food processing. This compact Philips food processor is equipped with a 700W motor, a 2-in-1 disk, and can slice, dice, and even shred the most difficult ingredients, such as vegetables and chocolates. You can even make your own bread with ease thanks to its ability to knead the dough. Get the Philips Daily Collection Compact Food Processor now!
Features:-
Compact yet Powerful Motor 700W
Easy to assemble
Multiple accessories
19 functions