Dishwashers are one of the best household machines everyone should have in their home, as they make our home life simple and more relaxed. It's best suited for working moms and single households looking for the best work-home life balance. You can enjoy making home-cooked meals with your family or for your family without having the heavy burden of cleaning the dishes after. You will enjoy welcoming visitors to your house. Many of us who only have a few hours to unwind after a long day at work will relax even more by cutting down on the time and effort required to wash our dishes. Below are the top ten dishwashers in Malaysia to support you with your household chores.
Best 10 Dishwasher
10. FOTILE SD2F-P1X Sink Dishwasher
If you have the budget, this rare combination of a sink-dishwasher with a viewing window could be the perfect addition to your modern home. The mixture of its 3-in-1 features serves as a sink for fast washing, as a tableware cleaning dishwasher and purifying agent for fruit and vegetables.
The built-in is safe on food because of its 304 stainless steel that is food grade safe. It's also extra-large, making it ideal for washing meats, vegetables, and fruits, as well as piling dishes between washes.
In contrast, the dishwasher can accommodate up to 20 to 24 pieces of tableware with a size of 48l. It also has an easy-to-use capacitive waterproofing touch screen. The dishwasher has three express washing techniques for your convenience, plus an integrated fan that will dry your dishes within 30 minutes.
Features:-
• Sink and Dishwasher Combo
• Spacious
---
9. Xiaomi Mijia VDW0401M Dishwasher
The Xiaomi Mijia dishwasher is a lightweight, portable countertop dishwasher ideal for small families or kitchens with limited room. In a single wash cycle, it can accommodate up to 32 pieces of tableware. You can operate this dishwasher with a Mi Home app.
Since it connects to your home Wi-Fi and uses the software to check the device's status when you're out, you can operate the dishwasher from afar with the Mi Home app. Because of this simplicity, the dishwasher is energy-efficient because it does not consume a lot of electricity when it is not in use.
You will get clean and disinfected dishes from the dishwasher's performance, as it will remove all microorganisms and germs of up to 99.99 percent. It is possible to clean this rigorously because of its high temperatures, ranging from 55ºC to 75ºC.
Features:-
• App compatible
• Kills bacteria and microorganisms
---
8. Giselle Table Top Dishwasher (KEA0205)
This Giselle dishwasher is a SIRIM-certified tabletop-style dishwasher that is small enough to fit into any kitchen without taking up too much room.
Apart from washing dishes and other tableware in the built-in cleaning basket with wheels and then accessing it, the unit is also a convenient dish stowaway.
This dishwasher also has a temperature range of up to 72ºC, which not only destroys bacteria and viruses but also aids in hot-air drying.
You won't have to wipe the dishes with a towel any longer! The cleaning process gets more systematic and helps to strip off tough stains thanks to its up and down spray arms and an all-round fan-shaped spray. You can use it right out of its packaging as it comes ready to use. Additionally, you can place it in a dedicated corner of your kitchen, next to a power outlet and, most importantly, a water outlet, since it has a connecting faucet for the water supply.
Features:-
• Small and compact design
• Spacious design
• Cleans and dries plates
---
7. Panasonic Table Top Dishwasher NP-TR8HQMY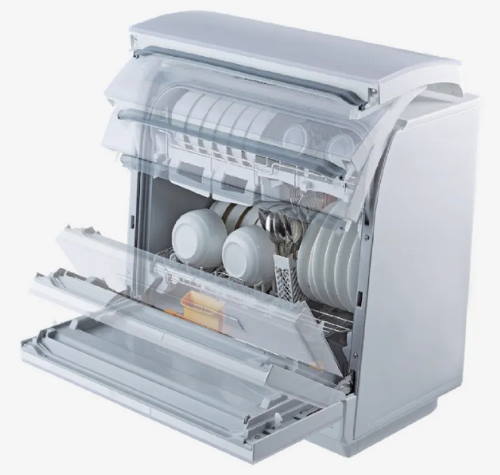 The Panasonic Table Top dishwasher does not require alterations in your kitchen as you can place it on your countertop.
The design of the interior of this dishwasher has two stories that will allow you to place your tableware. There is an integration of the boomerang nozzle and a rotary jet flow, which ensures there is an optimization of water through rigorous filtration and circulation.
Additionally, this dishwasher uses just 20% of the water used for handwashing dishes; this is due to the efficient use of filtered water for washing. The Panasonic Table Top dishwasher is perfect for small-sized families that don't want to hand wash dishes or have the time.
Features:-
• It's small, but it's got enough space for a big load.
• There is no need for kitchen installation or upgrades.
• Less water consumption
• Uses a boomerang nozzle with a rotary jet flow for thorough cleaning.
---
6. Elba Dishwasher EDW-B1462D(SS)
Elba is a high-end company and very popular for kitchen appliances. Elba's dishwasher has enough space for 14 place settings of dinnerware inside its 60-centimeter stainless steel casing.
The top third layer is for cutlery – however, if you're not hosting big dinner parties, this dishwasher also has the option of washing half the full load of dinnerware to save water and energy.
You have the option to choose and enjoy any of the six wash programs that include the energy saver wash program, main wash program, and half-load program.
It also has a top, lower and upper spray arm to rinse the dishes with a rinse aid indicator.

You have various wash options available to you, from an express wash. eco wash and a prewash as alternatives.
Features:-
• Premium interior stainless steel build
• 6 Washing Programs
• Saves energy consumption
• Has a rinse aid Indicator
---
5. Beko Freestanding Dishwasher (DFN05R11W)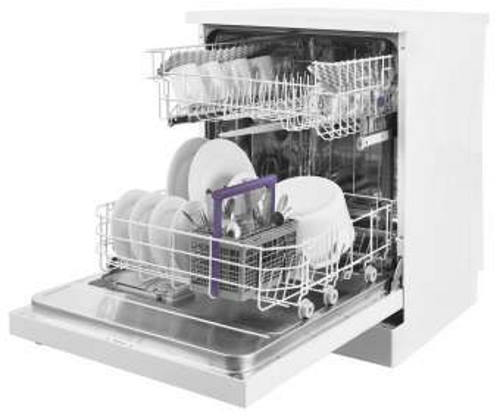 Beko is the perfect built-in dishwasher on a budget. It quickly becomes the next best thing in your home due to its outstanding construction quality and size, which allows for optimum washing in one wash cycle. Buyers can get the highest product at a reasonable price thanks to the stainless-steel inner body style.
The washing machine has a 12-year warranty on its compressor motor and a two-year warranty on general components and labor costs.
This security from the company saves people a lot of money and makes them more comfortable choosing this model. Many consumers are pleased with the quickness to mount and use this dishwasher. Most consumers agree that the consistency of the product is exceptional and cost-effective.
Features:-
• Affordable and good quality
• Gives excellent cleaning
---
4. Electrolux Dishwasher ESF5511LOX
This Electrolux dishwasher's design and performance are why we recommend it. Its drying technology is not only impressive, but it also saves energy.
This dishwasher runs quietly and efficiently. It also produces excellent results when it comes to dishwashing. The dishwasher has a fast wash feature that allows you to clean your dishes in under 20 minutes.
To highlight the dishwasher's energy-saving features, it's worth mentioning that it only requires 11 litres of water, making it one of the most energy-efficient for its size according to industry requirements.
Finally, after each loop, the drying technology employs their AirDry technology, which works three times better than close-door dishwashers. When a cycle is over, the door automatically opens during the drying process to allow plates and cutlery to air dry.
Features:-
• Energy-efficient
• Advanced AirDry Technology
---
3. Electrolux ESF6010BW Freestanding Dishwasher
The ESF6010BW is a dishwasher with six separate automated cleaning programs and ample storage capacity to wash a complete load of dishes.
You can place it anywhere with a water supply and best suited for homes with little space but want a dishwasher. You can either mount it in your kitchen or keep it on the counter because of its freestanding nature.
With the multi-washing application, you can choose the exact cleaning setting you need for each wash cycle. Because of its Eco wash program, this dishwasher is one of the most energy-efficient on the market.
This washing machine has received so many positive reviews on how it washes better than hand washing and how easy it is to use, how silent it is, and how little space it takes up.
Features:-
• Energy-efficient
• Easy to install
• Cleans well
---
2. Bosch SKS62E32EU Series 4 Compact Dishwasher
Bosch appliances are market leaders when it comes to setting industry standards.
This dishwasher is another illustration of meticulous research and innovation encapsulated in a compact package.
This dishwasher has delicate wash cycles that protect your glassware and fragile dishes, ensuring that they last as long as possible. There's also the extra dry option, which makes sure tableware dries completely. It comes with a 40ºC program that softly cleans glasses and crystalware before providing optimum drying for a brilliant shine.
These features, along with the dishwasher's automated program setting and LoadSensor technology, enable the dishwasher to take care of all the guesswork. The water level, temperature, and rinse time are all regulated by the computer. As a result, you save water and energy while getting excellent cleaning results. Similarly, the dishwasher has an AquaStop device that protects it from water damage wash after wash.
Features:-
• Self-cleaning filter system
• Delicate wash cycle for fragile kitchenware
• Saves on energy consumption
• An automatic programme that does all the work
---
1. BOSCH SMS46GW01P Series 4 Free-Standing Dishwasher
The dishwasher from Bosch is an independent dishwasher that you can place in your kitchen or backyard roughly anywhere.
It comes with a HygienePlus option that rinses your dishes in warm water in one of its predefined programs, meaning that your serving utensils and containers also come out spotless and free of bacteria. This dishwasher is best for families with young children who are vulnerable to allergic reactions.

The rack's height is adjustable and makes loading flexible. Your minds won't have to rattle like trying to crack a puzzle! When not filled with plates, the LoadSensor senses the load intelligently and uses lower water and electricity. It is also like a benevolent giant of a machine that can wash delicate objects such as wine glasses and porcelain plates with care.
Features:-
• Higher temperature water for deeper cleaning
• Adjustable rack system for loading flexibility
• Gentle on wine glasses and porcelain ware
• LoadSensor that saves on energy consumption