Air purifier, another essential electrical item in recent lifestyle. Due to the development of the metropolitan, we have more and more pollutions in the city that we live in. And if any of your family members have asthma or allergies, this will not be an option to buy, is a must then.
Best 9 Air Purifier
9. Cuckoo B Model Cordless Air Purifier
This is one of the revolutions in the air purifier for cordless air purifier. Every complete charge will last for 8 hours of usage. Every complete will takes approximately up to 3 hours. It is easy for some families that do a lot of movement to use it when they travel.
It comes with an ultra PM2.5 filter that can eliminate 99.99% of the airborne dust. This air purifier can cover the area of up to 40.5m. With its plasma ionizer, it will turn all the harmful substances into clean air in the room.
Another revolution feature with this air purifier is the 3 language guide. Its 5 filters and 8 level filtration system will trap any harmful dust, and all you will enjoy is the clean air in the room.
Features:-
Cordless Operation: 8 hours per charge
Ultra PM2.5 Filter
Plasma Ioniser
5-filter & 8-level Filtration System
Multiple Operating Modes
---
8. Honeywell Air Purifier Touch i8 HAC30
Honeywell Air Purifier Touch i8 HAC30 is made of ultra-durable polycarbonate and is one of the most durable devices on the market. Polycarbonate is a material used in the manufacture of household appliances, automobiles, and buildings. Over time, it can maintain colour and increase strength. Besides, it also has an anti-fall design to increase durability.
What we find impressive is its three-layer filtration system. Remove the lid; you can see the washable Honeywell (China) pre-filter, and then the composite HEPA filter to eliminate particulate matter. The final filter is Honeywell (China) Hi-Siv filter, which ensures removing odours and volatile organic compounds (VOC) from the air.
To start, if you are looking for a greener option, this opportunity will tick another box on the list. In addition to the washable pre-filter, i8 is also 100% ozone-free, which means it does not emit other harmful gases.
This air purifier is also equipped with a smart touch screen display. Basic settings such as sleep/auto mode, child lock, indicator light and air quality index (AQI) readings are well displayed at a glance.
With a low operating sound of 38dB, the purifier can work quietly, especially when switched to sleep mode. However, a few customers claim that the purifier becomes very loud when the fan is running at full speed. produce
Features:-
Child Lock & Anti-fall design
Real-time air quality indicator
Smooth touch controls
Smart filter replacement indicator
100% ozone free
---
7. RabbitAir MinusA2 Ultra Quiet HEPA Air Purifier
RabbitAir MinusA2's ultra-quiet HEPA air purifier covers an area of ​​700 square feet, which is ideal for large rooms such as living rooms. Don't worry about taking up any extra space because it will be installed on the wall.
Its superior six-layer filtration system specifically treats polluted air to ensure you get the freshest air quality throughout the year. It uses advanced BioGS HEPA filtration technology to capture common allergens with proprietary fibre materials and ultimately limit bacteria's growth. It also includes customized filters that can meet your individual needs, from bacteria defences, pet allergies, deodorants to toxin absorbents.
For a better air purification experience, please connect your mobile device to the Rabbit Air app. This allows you to monitor, control and even arrange specific settings to keep the machine running. However, this air purifier has a susceptible sensor exposed to light or smells and particles. This means that the machine can adapt to the surrounding environment to maintain good air quality.
In general, this set of equipment is easy to use at home, but this may not be the best deal on the market in terms of cost.
Features:-
BioGS® HEPA filtration
6 stage filtration (odour remover/ germ defense/ pet allergy/ toxin absorber)
Designed to stand-alone or wall-mounted
Intelligent purification
Ultra-quiet
---
6. Coway AP-1512HH Mighty Air Purifier
It is now selected as Wirecutter's choice! This small four-stage filter air purifier is small but mighty. It combines a pre-filter, a deodorizing filter, a genuine HEPA filter and a bipolar device to reduce air pollutants.
Energy-saving and environmental protection mode, automatic speed control based on airborne particles and intuitive air quality indicator. AP-1512HH can generate and maintain pure air in a room no more than 361 square feet (typical bedroom size).
AP-1512HH's filter indicator will remind you that the filter needs to be replaced, so you can be sure that the air you breathe is always pure. As part of the four-stage filtration process, the bipolar device generates an electrochemical reaction, reducing particles in the air.
After putting the cleaner in eco mode, when no indoor air pollution is detected for 30 minutes, the AP-1512HH fan will stop to save energy and start again when pollution is detected.
Features:-
Vital Ion System
Filter Replacement Indicator
Eco Mode
Air Quality Indicator and Auto Mode
Air Flow Control
Timer
---
5. Sharp Air Purifier FPJ30LA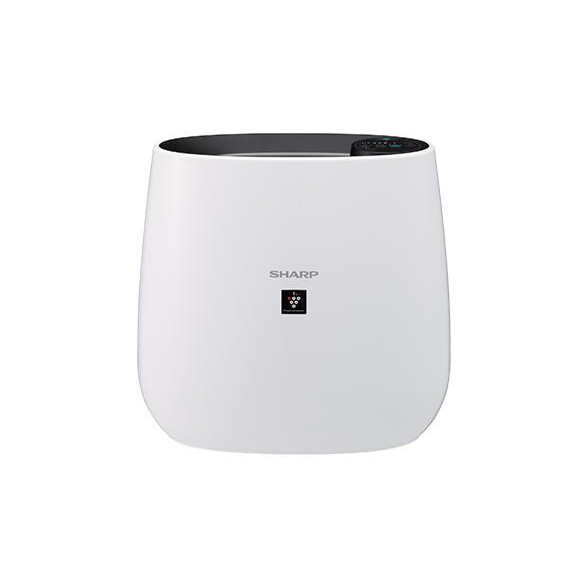 Almost everyone in Malaysia admits that our country suffers from the seasonal haze. Therefore, it is necessary to install an air purifier in your home or office. This is especially important for infants, young children or people with allergies, because toxic dust particles may cause more significant harm to them.
With its particular anti-fog function, Sharp FPJ30LA is considered to be the best air purifier against smog. By turning on the haze mode, it can effectively collect haze particles and release purified air. The device also combines a HEPA filter with a high-performance filter to capture dust particles, mould, and odours in the air.
As one of the cheapest air purifiers on this list, its features are also considered the best value for money air purifier. Regrettably, the small and medium size of the Sharp FPJ30LA is about 247 square feet-the size of a small meeting room. It is still one of the best choices for air purifiers below RM500.
Features:-
Deodorizing
removes most mould, viruses, allergens, and static electricity
powerful air suction
Compact
---
4. Dyson Pure Cool Link Tower Air Purifier
Speaking of modern, exquisite household appliances, how can we leave it? Introduced Dyson Pure Cool Link™ Tower Air Purifier, a hybrid device that integrates an air filter in its bladeless fan to achieve dual functions: purification and cooling.
Behind its high-end design, Dyson goes beyond the beautiful appearance to maintain your house's appearance and a good feel. The device is equipped with a 360° glass HEPA borosilicate filter that can remove 99.95% of particles of any size-as small as PM 0.1 (standard HEPA filter is PM 0.3).
Besides, the cleaner also comes with a curved remote control magnetically attached to the machine's top. It enables essential functions such as fan speed or different air purification modes to meet your personal needs. Like some of the devices listed here, you can pair this air purifier with its App, the Dyson Link app, for easy monitoring.
However, some users claim that the wind speed of the Dyson TP03 is only moderate (like any traditional fan) and that it is still far from the air cooler.
Features:-
360° Glass HEPA filter
Dual function; purifying & cooling
Certified Asthma and Allergy friendly™
Intelligent purification with Dyson Link App
---
3. Philips Air Purifier AC3259
In addition to improving the overall air quality in an area, air purifiers are often used to eliminate particles such as trigger pollen and dust. If you often find yourself struggling with morning sinuses or runny nose, you should also consider using Philips AC3259.
The device is specially tailored for asthma and allergies, with an automatic allergen mode, which is more effective in removing allergens from the air. Besides, it also has two other automatic modes: regular mode and bacteria and virus mode.
This air purifier is carefully designed with Vitashield IPS, which can effectively provide treated clean air at a rate of (CADR) of 393 cubic meters per hour. In short, it improves the purification efficiency and can remove allergens, particles, bacteria and viruses more effectively. In any automatic mode, the machine also uses AeraSense technology to monitor and react to air conditions continuously.
You can also link the device to Philips SmartApp for easy monitoring and control. Using the App, you can access indoor air quality, filter life and device settings at any time. In other words, due to the intermittent connection of the application, some users are not satisfied with the application.
Features:-
AeraSense- numerical display of changes in air conditions
Connected & controlled by Smart App
Allergen mode
3 auto purification modes & 5 manual speed
---
2. Panasonic Air Purifier PSN-FPXJ30AHM
The best product does not have to be the most expensive. Until Panasonic released the PSN-FPXJ30AHM, this sounded incredible.
The device has 3 different modes (turbine, sleep and automatic) to meet the pollution level accordingly and a filter replacement indicator. It relies on 3D circulating airflow divided into side airflow and frontal airflow to draw air from different directions. Therefore, it helps to purify the air while eliminating odours, cigarette smoke, pet dander, etc.
Another highlight is the Nanoe technology applied. It extracts hydrogen atoms from pollutants or viruses and combines them with OH radicals (Nanoe) to remove viruses and odours.
Even if the air filter occupies more than 200 square feet, many users are still satisfied with the apparent improvement in dust allergy. For available features, users agree that the price is good value for money.
Features:-
Super Nano-technology – effectively removes hydrogen from viruses, bacteria, odours and allergens.
3D Circulation Airflow
Skin hydration
Auto Mode,
Child Lock
Sleep Mode
User friendly
Light & quiet
Alleviate dust allergy
---
1. Xiaomi Smart Air Purifier 2H
Like the uneasiness or discomfort caused by invisible air pollutants, an air purifier's constant operating noise may disrupt a good night's sleep. Rest assured, Xiaomi has organized everything through its smart air purifier 2H.
This innovative tool's active noise is as low as 33 dB (quieter than a refrigerator), which can blend in the background of your room to bring you peace and better air. Most importantly, its effective coverage area is 193-333 square feet, which is very suitable for small and medium-sized bedrooms.
The device is equipped with True HEPA and activated carbon filters that can capture fine particles as small as 0.3 microns, including dust, pet dander, pollen and smoke. It is compatible with MiHome App and Alexa (Google Assistant), which fully controls the device. In this way, you can pay attention to indoor air quality in real-time and perform a series of functions simultaneously.
Most users like this air purifier are the 360° cylindrical filter, which sucks in contaminated air more efficiently than other devices. However, some users claim that the device is more suitable for manual mode than the manual mode.
Features:-
3 stage true HEPA filter
Cooperates with Google Assistant, Alexa and MiHome App
Lower power consumption
Smart control on App & device